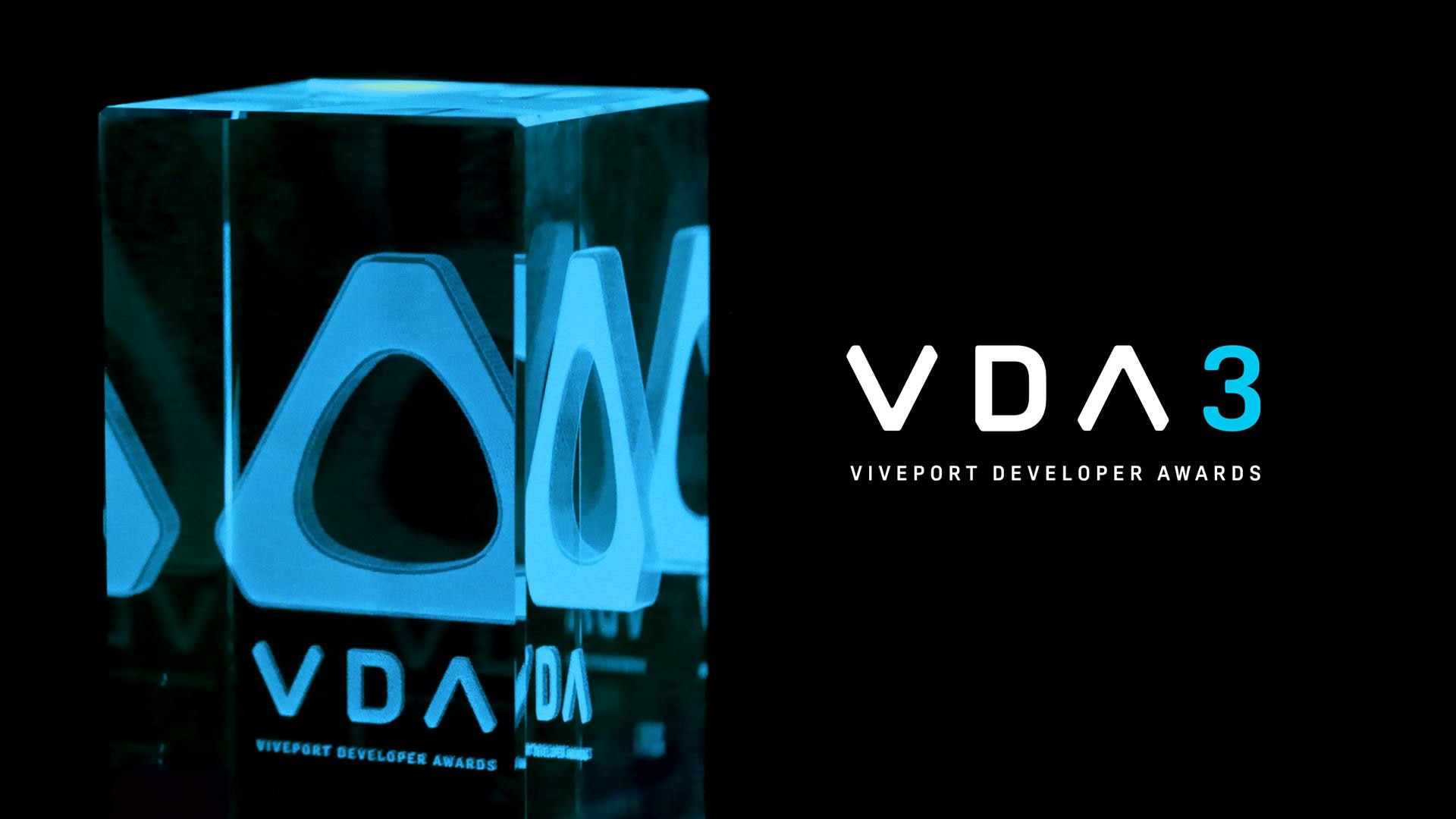 THIRD ANNUAL VIVE DEVELOPER AWARDS SUBMISSIONS OPEN TODAY
New and Current VIVE Subscription Developers Can Win Up to $50,000 in Cash and Prizes
San Francisco, CA – November 29, 2018 – VIVE, HTC VIVE's global platform, app store and subscription service, today opened submissions for the third annual VIVE Developer Awards. The awards program is an open contest for VR developers who have been, or will be, published on VIVE Subscription. Winners in each category can walk away with up to $50,000 in cash and prizes to support their current and future development objectives.
The VIVE Developer Awards is an opportunity to celebrate and reward the exceptional studios and content that have contributed to the platform's success. This year's batch will have one winner and one finalist from four PC-VR categories and one winner from three VIVE Wave categories. Now is the best time to be a VIVE developer as winners will receive a cash prize, the newest VIVE hardware, tickets to the 2019 Game Developers Conference and marketing support, including a VIVE Developer Stories video, totalling over $50,000 in rewards.
"Developers have been the key to VIVE Subscription's great success this year as we've seen our subscriber base grow 5x due to our ever-increasing library of top-quality content," said Rahul Sandil, Corporate Vice President, Marketing for VIVE and VIVE Studios. "The VIVE Developer Awards are just another way VIVE puts developers first. With the most avenues to monetize their content, full marketing support, 100% revenue share during the busiest quarter of the year and double the reach with the support of Oculus Rift, VIVE continues to be the best platform for VR developers."
Categories span the most popular genres in VIVE Subscription, including entertainment, education, arts & culture and arcade. There will be one winner and one finalist across all four categories for PC-VR titles and new this year, there will be one winner from the three VIVE Wave categories. VIVE Wave is the quintessential open VR platform for developers to create content for standalone devices. Breakdown of this year's categories are as follows:
Entertainment – PC-VR, VIVE Wave
Captivates the player in an engaging world and story. Features interactivity that is satisfying and rewarding. Leaves a lasting impression. Encourages the player to revisit the title again and again. Games and narrative-driven experiences.
Education – PC-VR, VIVE Wave
Offers immersive and interactive learning experiences for the classroom or outside of it. Sparks curiosity, imagination and passion for intriguing subject matter.
Arts & Culture – PC-VR, VIVE Wave
Enables, preserves, and democratizes creation in the arts. Addresses a diverse, global audience and contributes to the knowledge and enjoyment of cultural heritage.
Delights customers new to virtual reality. Designed for location-based entertainment considering ease of learning and playtime. A great choice for venues and businesses offering virtual reality experiences. The title is required to be opted-in to the VIVE Arcade program.
To enter, VR developers can submit their PC or Wave title to the VIVE Developer Awards starting today through February 1st. After registering on the VIVE Developer Console, developers then must opt-in for the VIVE Subscription program and choose which category to enter before submitting their title to VIVE for publishing. Winners will be announced at the 2019 Game Developers Conference in San Francisco.
- Ends -
About HTC VIVE
VIVE is a first-of-its-kind virtual reality platform, built and optimized for room-scale VR and true-to-life interactions. Delivering on the promise of VR with game-changing technology and best-in-class content, VIVE has created the strongest ecosystem for VR hardware and software, bringing VR to consumers, developers and enterprises alike. The VIVE ecosystem is built around the best VR hardware in market, supported by VIVE X, a $100 million accelerator for VR and related technology start-ups, VIVE, a global platform and app store with the world's first VR subscription model that operates in more than 60 countries, and VIVE Studios, its VR content development and publishing initiative. For more information on VIVE, please visit www.VIVE.com.
About HTC
HTC Corporation aims to bring brilliance to life. As a global innovator in smart mobile devices and technology, HTC has produced award-winning products and industry firsts since its inception in 1997, including the critically acclaimed HTC U and Desire lines of smartphones. The pursuit of brilliance is at the heart of everything we do, inspiring best-in-class design and game-changing mobile and virtual reality experiences for consumers around the world. HTC is listed on the Taiwan Stock Exchange (TWSE: 2498). www.htc.com。
# # #
HTC, the HTC logo are the trademarks of HTC Corporation. All other names of companies and products mentioned herein may be the trademarks of their respective owners.