HTC REIGNITES THE MID-MARKET WITH 2014 HTC DESIRE PORTFOLIO
HTC Desire 816 is the first of a new breed of mid-range HTC smartphones combining beautiful design and flagship performance for incredible value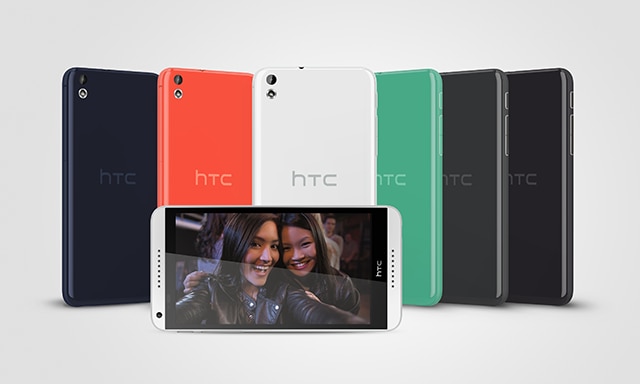 Barcelona, Spain, February 24, 2014 — HTC, a global leader in mobile innovation and design, has today unveiled the first model in its ambitious 2014 mid-range portfolio. The HTC Desire™ 816 distils elements of the internationally-acclaimed design DNA of HTC's flagship HTC One® family, with a vibrant, modern colour palate and quality materials that give the HTC Desire range its own familiar, yet distinctive flavour. Demonstrating HTC's obsessive focus on incredible design, both inside and out, the HTC Desire 816 packs an advanced feature set that makes it one of the best value smartphones ever introduced by HTC.

"The HTC Desire 816 marks the beginning of an exciting new era for the mid-tier," said Peter Chou, CEO of HTC. "Incomparably beautiful to look at and hold with the technology and software to match, the HTC Desire 816 challenges everything that people expect from lower cost smartphones. It is bringing genuine choice to the category by delivering stunning design and high-end performance at unbelievable value."

Beautifully designed, powerful performance
The first edition of the new-look HTC Desire family comes fully loaded with HTC's iconic dual-frontal speakers and HTC BoomSound™ for incredible audio quality, while HTC BlinkFeed™ keeps users up-to-date with the latest news and social updates on the spacious 5.5 inch screen. Two powerful cameras make the HTC Desire 816 ideal for photography lovers. A 13MP rear-facing camera complete with HTC Zoe™ and automatic highlight videos, as well as a 5MP front-facing camera, make it the perfect device for capturing both the perfect selfie and stunning landscapes in amazing quality.

Powered by a quad-core, 1.6 GHz processor and offering 4G LTE connectivity, the new HTC Desire model offers world-class speed and power and is fully-equipped to keep pace with the most active lifestyles, whether browsing, gaming or switching between multiple apps.

Global Availability
The new HTC Desire 816 will be available with the latest version of Sense in China from March. Global availability will begin from April. For more information visit www.htc.com.

About HTC
Founded in 1997, HTC Corp. (HTC) is the creator of many award-winning mobile devices and industry firsts. By putting people at the center of everything it does, HTC pushes the boundaries of design and technology to create innovative and personal experiences for consumers around the globe. HTC's portfolio includes smartphones and tablets powered by the HTC Sense® user experience. HTC is listed on the Taiwan Stock Exchange (TWSE: 2498). For more information, please visit www.htc.com.
For more information on HTC BlinkFeed's ever-growing content partner ecosystem, visit the HTC Blog at http://blog.htc.com/.