The new HTC UltraPixel™ camera
The HTC UltraPixel™ camera is an advanced imaging technology that allows you to quickly shoot vivid, true-to-life images with a wide range of colours, even in low light conditions.
ImageSense technology is a great leap in picture quality:
HTC UltraPixel™ Sensor: each enlarged pixel captures over 300% more light than most leading 13 megapixel cameras
HTC ImageChip: offers continuous autofocus, colour shading, noise reduction and more realistic High Dynamic Range
F/2.0 Aperture: the largest available smartphone camera aperture, it lets in 44% more light than the iPhone 5
Optical Image Stabilisation: drastically reduces blur in still photos and shaky video footage
"...in terms of the hardware and software details that actually go into making a great photo, megapixels are highly overrated."
Jessica Dolcourt, CNET
HTC UltraPixel™ Sensor
Let there be light (300% more).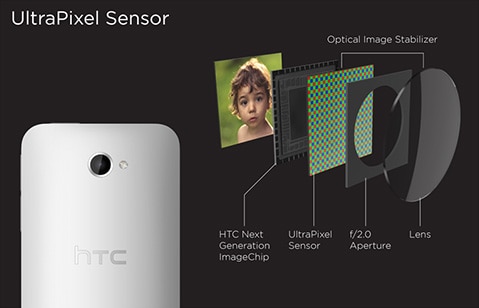 More megapixels don't necessarily mean better image quality. Our competitors try to outdo each other by cramming in more megapixels for a higher count, which often results in decreased image quality. The smaller the pixel, the less light each one collects.
Our approach is to offer larger pixels that can capture 300% more light than many of the 13 megapixel cameras on the market. The more light a digital camera can capture, the more information it can record, resulting in better picture in more varied conditions.