HTC Releases Unaudited Revenues For November 2011
Taoyuan, Taiwan – December 6, 2011 – HTC Corporation (TWSE: 2498), a global designer of mobile devices, today announces that unaudited consolidated revenues for November 2011 totaled NT$30,942 million, down 19.60% year-on-year, while total unaudited consolidated revenues from January to November 2011 were NT$439,432 million, up 78.87% YoY.
Unaudited Consolidated Revenue Report for November 2011
(Unit: NT$ million)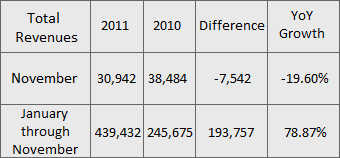 About HTC
Founded in 1997, HTC Corp. (HTC) is the creator of many award-winning mobile devices and industry firsts. By putting people at the center of everything it does, HTC pushes the boundaries of design and technology to create innovative and personal experiences for consumers around the globe. HTC's portfolio includes smartphones and tablets powered by HTC Sense®, a multilayered graphical user interface that vastly improves user experience. HTC is listed on the Taiwan Stock Exchange (TWSE: 2498). For more information, please visit www.htc.com.