Amazing Camera
Should you take photos or shoot video? Why choose? Our camera can do both at the same time.
Authentic Sound
With Beats Audio™ you'll feel every single beat. Our integrated music experience called HTC Music means listening to music has never felt more immersive or convenient.
Entertainment
Access the hottest movies and TV shows with HTC Watch. Share your favorite content on your phone onto your big screen TV. Make your car even 'smarter' with HTC Car.
Make the Switch
It's easier than ever to transfer your content and settings to an HTC phone.
Be More Productive1
The tools you need to stay ahead
Email & Calendar
Customizable email to quickly find any email
We've introduced better ways to customize your email inbox so it's even easier to organize. If your inbox is filling up and you only want to skim through your unread mail, filter your inbox to view all unread messages in one easy step. If you need to search your email for that important attachment your boss sent you, the 'Attached' filter puts all emails with attachments up front. You can set up filters for Favorites, Invites and Marked emails as well. And HTC Sense supports multiple accounts with Exchange, Gmail, Yahoo Mail, Windows Live, Hotmail and other POP3/IMAP mail services.
Threaded email conversations: instant access to related emails
HTC Sense makes it easy to follow conversational threads. Email messages are grouped and aggregated into one email thread so you'll never have to waste precious time looking for related emails again. You'll see an arrow that you can tap to reveal the entire email conversation.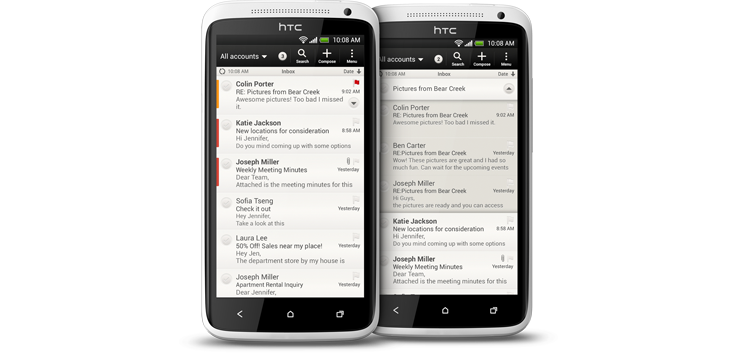 Stay organized with Calendar

With Calendar, you can rest assured you won't accidentally schedule two events at the same time. Easily check for conflicting events with the tap of a button while entering event details. And now you don't even have to leave the screen to re-schedule times. Simply drag the meeting up, down or up and down if it's going to be a long one.

HTC Sense also adds a new dual-time zone feature in Calendar to help you call people at convenient times. Once you've settled on a time that works for you and your colleagues, we've made it even more convenient to dial into the conference call without having to write down phone numbers or passcodes. If you are initiating a call from Calendar for an event or conference call, the event/conference call detail is available on an in-call screen with a single tap. You won't have to switch apps to find the passcode for the conference call.
[1] Features listed are not available on all devices, and in all geographical locations. Please check with your local reseller regarding feature availability.