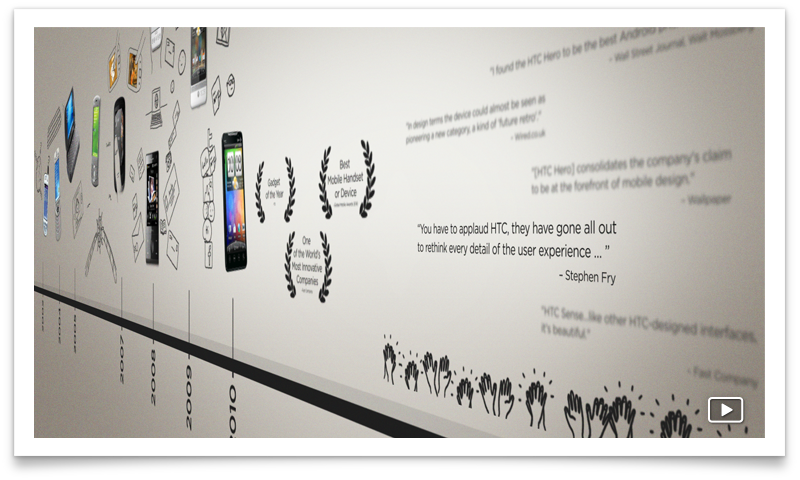 It all started in 1997 with a handful of passionate visionaries in a small windowless office ... and a big dream.

 

As we grew, we teamed up with companies who shared our vision of bringing innovation to people around the world. This dedication to collaboration led to long standing partnerships with Microsoft, Google, Qualcomm as well as most mobile operators across the globe.

 

We imagined a world with you no longer chained to your computer. Before there was the word smartphone, we were already developing some of our first touch and wireless handhelds — the predecessors of today's smart mobile devices.

 

Technology should not dictate the way you do things — rather we should develop innovation that serves you in the most natural way.

With this in mind, in 2007 we introduced the HTC Touch — the first of many HTC phones featuring an instinctive touch experience.
 

Innovation starts with you. In 2009 we unveiled HTC Sense, a holistic experience that is based on putting you at the center by simply making things work the way they should.

| | |
| --- | --- |
|   | Unveiling the HTC Hero with HTC Sense |
| | |
| --- | --- |
| HTC Legend at MWC 2010 | HTC Desire at MWC 2010 |

 

HTC Sense is the philosophy that guides us to continually refine the phone experience by seeing things through your perspective. The next generation of HTC Sense devices continues to stay true to this idea.
 

As the world around us evolves and accelerates, we will continue to push ourselves to exceed your expectations.

 
World's first 4G Android phone