Pioneer and HTC, connecting beautifully
Overview:
Now select Pioneer products* can seamlessly receive and play superior quality audio, instantly and wirelessly, from your HTC phone*. By improving the way their products work together, HTC and Pioneer are making your favorite tunes easier to enjoy.
Key features:
Pioneer and HTC Connect
Your phone offers great music entertainment when you're on the move. Now, it can also drive more fun times at home by enjoying your favorite tunes in your HTC phone on your Pioneer device. A growing collection of Pioneer audio receivers and wireless speakers now work seamlessly with your HTC phone over your home wireless network or via Pioneer Wireless Direct*. Sporting the new HTC Connect logo, these Pioneer products make your music sound superb, and it only requires a few taps of your fingertips to set up. The HTC Connect logo guarantees that your Pioneer device and HTC phone will work seamlessly, enabling you to easily stream music and adjust the volume, start, stop, fast-forward or rewind, all right from your phone. At the same time, keep your HTC phone free to do other things such as taking phone calls, browsing webpages, receiving notifications, and more.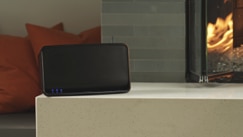 A powerful new standard
The HTC Connect program is an improved sound and visual standard for seamlessly connecting HTC phones to other consumer electronic devices and accessories. It delivers audio and video to superior standards in a far more rapid, consistent and reliable way. Gone are the difficulties of having to wait as you try to connect and control the device. It's now easy to set up and use your certified Pioneer devices with HTC Connect.
A bit about our partner, Pioneer
For over 75 years, Pioneer Electronics has been a leading manufacturer of innovative audio and video technology including plasma televisions, Blu-ray disc players, and mobile entertainment products. They were the first partner to receive HTC Connect certification.
* Please visit the Pioneer site for HTC Connect certified products.
* Sense 4.0 and 4+ products supporting DLNA and with latest available software update.
* Audio/Video receivers and HTC phone needs to be on the same Wi-Fi network to connect. Wireless speakers and HTC phone can be connected on the same Wi-Fi network or using Pioneer Wireless Direct.
Pioneer and the Pioneer logo are trademarks of Pioneer. Specifications and design subject to change without notice.