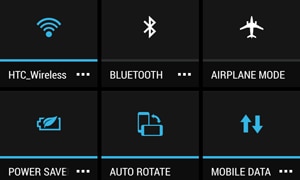 HTC allows you to access your quick settings by using 2 fingers and swiping downwards – just like you would your notification tray. There are 12 quick settings, but the best part is, you can now customise a whole range of new options.
Swipe downwards with 2 fingers, & click the edit icon on the top left hand side, next to the menus switcher.
That gives you easy access to Do Not Disturb, Data Roaming toggle, Media Output Control, Ringtone changer, and so much more.