Our best-rated Android phone just got even better with invigorated muscle packed into a blazing 1.7GHz quad-core processor for 27% faster performance.* HTC One X+ offers uncompromised response to your multiple demands starting with doubled internal storage: 64GB worth.
Your HTC Smartphone Just Got Smarter.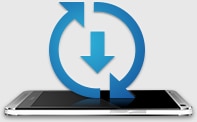 SEE WHAT'S CHANGED
Specs Overview
Display
4.7 inch super LCD 2 touch screen with Gorilla® Glass 2
CPU Speed

NVIDIA® Tegra® 3 1.7 GHz, Quad core

Battery

Embedded & rechargeable Li-ion Polymer battery ab

Capacity: 2100 mAh

Complete Specs
Features
Turbocharged: Latest 1.7GHz Quad Core processor
Turbocharged: Latest 1.7GHz Quad Core processor
The HTC One X is powered by the latest and fastest quad core processor which makes your mobile experience more agile and responsive than ever. Browse, stream and download at speeds that weren't possible before. See games come alive with more realistic and fluid rendering, the way their creators intended. And perform a multitude of tasks effortlessly on the go.
89GB total storage. Unlimited potential.
89GB total storage. Unlimited potential.
All-day performance
HTC Accessories
HTC Accessories
HTC Media Link HD

Wirelessly share content from your phone to your high-definition TV with the HTC Media Link HD. It's quick, convenient, and completely cordless, and allows you to stream your favorite content.
VIDEOS
VIDEOS
Find out what came in the HTC Sense 5 updateThis update comes with a host of new and improved features. In this video, we'll introduce HTC BlinkFeed™, Video Highlights, quick Settings, personalizing the Home screen, improved Camera & Phone dialer features, and more.
Stream all your favorite content onto one screen with HTC BlinkFeedUse HTC BlinkFeed™ to build your own home screen by populating it with information and updates that you want. Since it's constantly refreshed, you're always up-to-date.
Move stuff from an old Android phone to a new oneWondering how to move stuff from your old Android phone to your new HTC phone? With HTC Transfer, move your contacts, text messages, settings, and more in just a few simple steps.
Move iPhone stuff to your phone with HTC Sync ManagerWith HTC Sync Manager, moving your iPhone stuff to an HTC Android phone is fast and easy.
Manage files between your phone and computerWith HTC Sync Manager, you can easily manage your music, photos, documents, and other stuff between your phone and computer.
Specs
Specs
Size

134.36 x 69.9 x 8.9mm

Weight

135 grams with battery

Display

4.7 inch super LCD 2 touch screen with Gorilla® Glass 2

Resolution

HD 720p

CPU Speed

NVIDIA® Tegra® 3 1.7 GHz, Quad core

Platform Android

SIM Card Type

Memory1

Total storage: 64GB, available capacity varies

RAM: 1 GB

Network2

HSPA/WCDMA:

GSM/GPRS/EDGE:

GPS

Internal GPS antenna with GLONASS

Sensors

Gyro sensor
G-Sensor
Digital compass
Proximity sensor
Ambient light sensor

Connectivity3

3.5 mm stereo audio jack
NFC capable
Compliant with Bluetooth 4.0
Bluetooth with aptX™ enabled
Wi-Fi®: IEEE 802.11 a/b/g/n
DLNA® for wirelessly streaming media from the phone to a compatible TV or computer
micro-USB 2.0 (5-pin) port with mobile high-definition video link (MHL) for USB or HDMI connection (Special cable required for HDMI connection.)

Sound Enhancement

Studio-quality sound with Beats Audio™ built in

Camera with HTC ImageSense™

8 megapixel camera with auto focus, LED flash, and BSI sensor (for better low-light captures)
F2.0 aperture and 28mm lens
1080p HD video recording
1.6 megapixel front camera (720p for video recording)
Dedicated HTC ImageChip
VideoPic: Capture a 6 megapixel photo while shooting HD video at the same time
Continuous shooting: One-press continuous shooting captures up to 99 shots
Smart Flash: Five levels of flash automatically set by distance to subject
Sightseeing mode: Ensures that your camera is always ready for your next great shot
Video stabilization: Removes shakiness for smooth, professional videos
Slow motion video capture and playback

Multimedia

Audio supported formats:

Playback: .aac, .amr, .ogg, .m4a, .mid, .mp3, .wav, .wma (Windows Media Audio 9)
Recording: .amr

Video supported formats:

Playback: .3gp, .3g2, .mp4, .wmv (Windows Media Video 9), .avi (MP4 ASP and MP3)
Recording: .mp4

Battery4

Embedded & rechargeable Li-ion Polymer battery ab

Capacity: 2100 mAh

AC Adaptor

Voltage range/frequency: 100 ~ 240 V AC, 50/60 Hz

DC output: 5 V and 1 A

Available storage is less due to phone software.
Network bands in regions other than Europe and Asia Pacific may be different, depending on the mobile operator and your location. Upload and download speeds also depend on the mobile operator.
NFC availability depends on the mobile operator and your location. Please check with your mobile operator.

a) Battery times (talk time, standby time, and more) are subject to network and phone usage.

b) A Standby time specification ("specification") is an industry standard that is only intended to allow comparison of different mobile devices under the same circumstances. Power consumption in a standby state is strongly dependent on factors including but not limited to network, settings, location, movement, signal strength and cell traffic . Comparisons of different mobile devices using such a specification can therefore only be done in a controlled laboratory environment . When using any mobile device in real life circumstances for which the mobile device is intended, the standby time could be considerably lower and will be strongly dependent on the factors as mentioned above.
Note: specifications are subject to change without prior notice.
*As compared to HTC One™ X battery life, measured by talk time.
Most popular smartphones
There are lots of phones out there so we've made it easy to find the most popular and quickly find out what all the excitement is about.
Most talked about - HTC One
While we make a wide range of phones to meet different needs, if we could only recommend a single phone this one would put a smile on your face.