THE HTC ONE® GETS SUPERSIZED WITH THE HTC ONE MAX
World's best smartphone now in 5.9" with new and improved HTC Sense 5.5 ® experience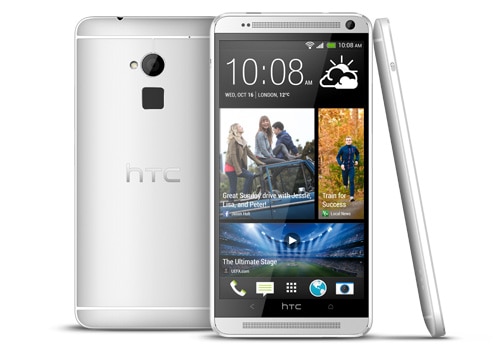 Hong Kong, October 16, 2013 – HTC, a global leader in mobile innovation and design, today announced the HTC One max, a super-sized smartphone that brings the award-winning design, functionality and performance of the HTC One to fans of larger handsets. A new Fingerprint Scan feature takes convenience to a new level while acclaimed features including HTC BlinkFeed™, HTC Zoe™ and HTC BoomSound™, combined with the new HTC Sense 5.5, which are all enhanced to continue to deliver the best overall smartphone experience, now on a larger screen.
"The addition of the HTC One max means that we now have an HTC One phone for everyone. The family has been built on quality and game-changing innovations and the HTC One max is certainly no exception," said said Mr. Jack Tong, Head of China and North Asia President, HTC. "The upgrade to HTC Sense 5.5 will provide our most amazing mobile experience yet, with the HTC One max delivering the size and power required to do everything you want, and more, without compromise."
"The metal cased HTC One series had sparked heated discussion in Hong Kong fashion circles since release began. During recent model community gatherings, there has been lots of talk about the HTC One max," shared by Famous Hong Kong model Amanda S. "During my attendance of the event, I was able to personally experience the comfort of the phone's perfect hold. I'm deeply looking forward to sharing lots of new fashion ideas for this wonderful new phone with my model colleagues and sisters."
"The HTC One max innovative fingerprint recognition feature allows me to unlock the screen more efficiently and directly open everyday favorite applications," said Sammy Leung, Hong Kong's renowned local DJ. "I like to use HTC BlinkFeedTM the most with this, as news from around the world as well as local community information becomes directly accessible from my fingertips. Thanks to the constant and convenient flow of useful information, I am able to be even more informed on a wide range of topical issues. The large 5.9 inch Full HD screen and HTC BoomSoundTM work in perfect harmony to provide rich and authentic sound alongside the HD visuals. Ultimately, this combination makes watching all of the latest music videos an exceptionally immersive experience."
Big and powerful
The HTC One max's 5.9" full HD1080p display is perfect for enjoying photos, videos and movies on the go. Smooth and efficient performance comes courtesy of a quad-core Qualcomm® Snapdragon™ 600 processor featuring a quad-core 1.7 GHz CPU enabling jaw-dropping performance, ultra vivid videos and booming sound. Whether you're watching videos in stunning HD, playing games or checking out what's hot online, the HTC One max sounds amazing, looks sharp and keeps working when you need it.
The 16GB onboard memory can be expanded thanks to a 64GB microSD™ card slot, with a massive 50GB of additional free Google Drive online storage being offered to HTC One max owners.[1]
The large 3,300mAh embedded battery means that this level of performance will last and last. Even the most intensive users will find the HTC One max is up to the challenge thanks to the optional HTC Power Flip Case, a stylish 1,150mAh battery expansion for your HTC One max which offers both protection and extra juice when you need it most.
Maximum convenience at your fingertips
The average person checks their phone multiple times a day, so the HTC One max welcomes a new era of convenience and advanced functionality thanks to a built-in Fingerprint Scan feature. Located on the back of the device, the fingerprint scanner allows users to lock or unlock the screen and quickly launch up to three favourite applications by assigning an individual finger to each.
More content than ever before
The HTC One max's Sense 5.5 upgrade comes with a more social, personalised HTC BlinkFeed™ that can be further refined by customisable topic categories and new integration with premium content providers including Instagram and Google+. Up to 120 articles can also be downloaded for offline viewing, making HTC BlinkFeed™ even better for snacking on information wherever and whenever you are.
Ultimate imaging
Featuring HTC's UltraPixel camera technology, HTC Zoe™ mode, that brings your photos to life, and a 2.1MP 88° wide angle front-facing camera, the HTC One max will capture stunning photos and full HD 1080p videos whether you're the photographer, the subject or both. Dual Capture means you can now snap memorable moments and your reaction to them in one extraordinary photo or video by simultaneously shooting with the front and rear cameras.
Improved imaging is also introduced through Video Highlights, which combines your photos and videos to create a mini movie complete with the soundtrack and visual theme of your choice. And with the HTC One max, your Video Highlights can now be any length you want.
Design at its Best
Available in Glacial Silver, the HTC One max shares the same premium design credentials as the rest of the HTC One family, providing an all round exceptional experience.
Price & Availability
The HTC One max will be available in Glacial Silver and the suggested retail price is HK$6,198.
From on-shelf day to 30 Nov, 2013, upon purchase of the HTC One max at designated retail outlets, customers will receive a complimentary HTC 3D Flip Case.
Additionally, by adding HK$199 and registering online, users can redeem either a HTC Power Flip Case#, or a HTC BoomBass.
* Available in White, Pink, Peach, Red, and Black, totalling to five kinds of colours to choose from. There is limited stock for every colour, so these colours are available only while stock lasts.
** Customers must first register online, please refer to the website for details:
www.htchkpromotion.com/onemax
# HTC Power Flip Case product model no: HTC HC B100, required to use with HTC One max
Please see the link below for product photo:
http://www.bdcshk.com/webcontent/HTC/photos/131016_HTCOnemaxProductPhotos.zip
About HTC
Founded in 1997, HTC Corp. (HTC) is the creator of many award-winning mobile devices and industry firsts. By putting people at the center of everything it does, HTC pushes the boundaries of design and technology to create innovative and personal experiences for consumers around the globe. HTC's portfolio includes smartphones and tablets powered by the HTC Sense® user experience. HTC is listed on the Taiwan Stock Exchange (TWSE: 2498). For more information, please visit www.htc.com.
For more information on HTC BlinkFeed™'s content partners, visit the HTC Blog.
[1] Offer includes 15GB of online storage with existing or new Google account, plus additional 50GB of online storage free for two years. Requires registration for a Google account. Additional terms and requirements may apply (including a subscription fee) after two-year trial expires. For details, refer to support.google.com/drive/?p=drive_offers_htc