Optical Image Stabilization: Significant Clarity Improvements
One of the biggest complaints about smartphone cameras has been blurry photos. There are two main reasons for this:
Length of time required to capture an image, resulting in misaligned light streams coming into the sensor.
The physical shaking of the hand while holding the camera or pressing the shutter button.
To address the first issue, HTC's camera is now capable of capturing full size photos in up to 1/48 of a second, compared to 1/30 of a second from other competitors and the HTC One X (2012). This is a significant improvement in shutter speed on a smartphone camera, producing photos and videos that are sharper and clearer in all conditions.
In terms of dealing with physical motion, we have installed a physical optical image stabilizer (OIS) on the new HTC One system. While OIS is not new to digital cameras, this is a significant milestone for smartphone cameras. HTC's dedicated imaging gyroscope effectively detects the motion of the camera, and the lens will physically move in the opposite direction of the motion to counter the shake induced on a phone.

This is more effective than digital stabilization used on competition models, as there is real physical movement involved here. Digital stabilization simply takes the image or video and crops out parts that are shaking, resulting in lower resolution images, and slower time to process the stabilization.
HTC engineers have made significant progress on reducing the OIS component to fit within the beautiful form factor of the new HTC One. Leading the industry standards, it can counter motion on two axes and operates at an unprecedented frequency of 2000Hz, which means it detects pitch and yaw movements of the camera, and adjusts for those movements, 2000 times a second. This is much faster than any comparable phone camera with OIS. While other OIS systems might only compensate on one plane of motion, HTC's system is designed so that the lens tilt an average of 1 degree in all directions from its center point, capable of countering motion from various movement angles.
The combination of HTC's hypersensitive UltraPixel Sensor, high-frequency Optical Image Stabilization, faster shutter speed, and large f/2.0 aperture means that you not only get fantastic pictures and video of inanimate objects in low light, but you can capture blur-less action shots without a flash. In other words: incredible shots of fast moving things and people in poor light, whether indoors or outside!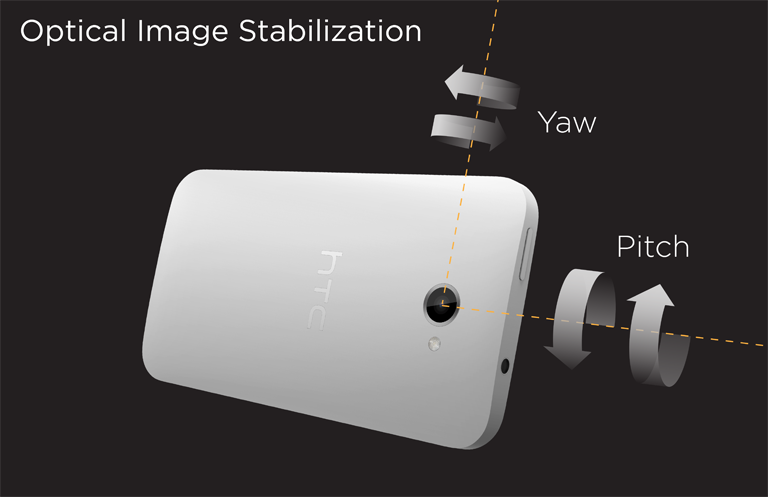 When taking photos, OIS compensates for movements of the user's hand. This is more necessary with slower shutter speeds, and testing in our labs has shown that OIS effectively produces clear, blur-free photos at shutter speeds as slow as 1/7.5 of second. However, the camera will rarely, if ever need to shoot at that speed, due to the new sensor's ability to capture lowlight photos at faster shutter speeds up to 1/48 of a second.
For taking videos, one of the biggest challenges has always been capturing smooth footage. When holding the camera with bare hands, even small movements are quite noticeable. With the 2-axis OIS in operation, background shakes are effectively removed, resulting in videos that look smooth and steady, mimicking smooth panning used with professional video equipment.