The new HTC UltraPixel camera
The HTC UltraPixel camera is an advanced imaging technology that allows you to quickly shoot vivid, true-to-life images with a wide range of colours, even in low light conditions.
ImageSense technology is a great leap in picture quality:
UltraPixel Sensor: each enlarged pixel captures over 300% more light than most leading 13 megapixel cameras
HTC ImageChip: offers continuous autofocus, colour shading, noise reduction and more realistic High Dynamic Range
F/2.0 Aperture: the largest available smartphone camera aperture, it lets in 44% more light than the iPhone 5
Optical Image Stabilisation: drastically reduces blur in still photos and shaky video footage
"...in terms of the hardware and software details that actually go into making a great photo, megapixels are highly overrated."
Jessica Dolcourt, CNET
UltraPixel Sensor
Let there be light (300% more).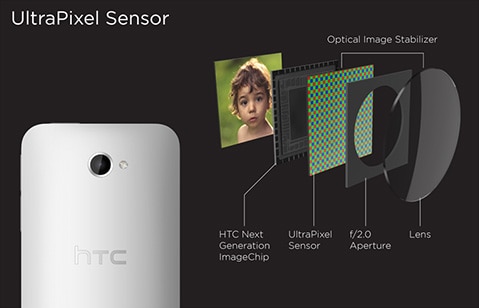 More megapixels don't necessarily mean better image quality. Our competitors try to outdo each other by cramming in more megapixels for a higher count, which often results in decreased image quality. The smaller the pixel, the less light each one collects.
Our approach is to offer larger pixels that can capture 300% more light than many of the 13 megapixel cameras on the market. The more light a digital camera can capture, the more information it can record, resulting in better picture in more varied conditions.
UltraPixels and sensor size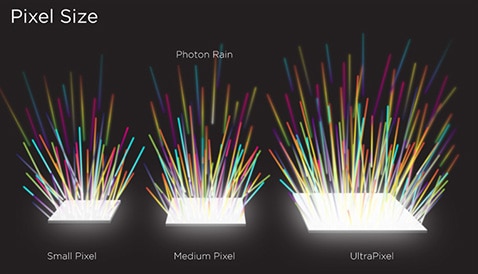 The 2.0 micrometer UltraPixels have twice the surface area of the 8 MP solutions from leading competitors, and far larger than standard 13 MP sensors.
HTC camera images look stunning on large monitors, HDTVs and can be printed up to 8" x 10" (20 cm x 25 cm) at full resolution.
The actual file size of each image is smaller as well. Little, if any, compression is required when sharing, uploading, backing up or storing in the cloud.
The sample photos below illustrate the different rate of light capture:

Next Level Processing Power With ImageChip
The HTC ImageChip 2 optimises the Image Signal Processor (ISP) to offer:
CONTINUOUS AUTOFOCUS
Nearly instantaneous focusing speed. Less than 200ms at full distance scan for a faster autofocus than an average human blink. Your images will rarely be out of focus.
Lens Compensation & Color Shading
Lens curvature and light flows cause naturally occurring dark spots near the lens edge. We process and compensate the colour shading for sharp results.
De-noise processing
We cleanly remove noise captured on both the main and front cameras to remove noise when light thresholds are reached.
F/2.0 Aperture
Better by a Wide Margin.
Aperture is the width a camera lens opens when pictures are taken, and is measured in f-stops.
HTC One offers the largest apertures on the market, which allows 44% more light than the iPhone 5's aperture, for a huge difference in low light conditions.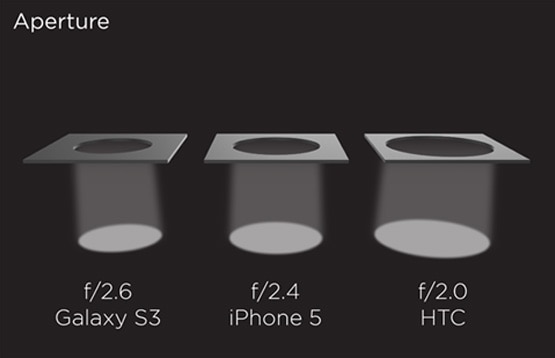 Optical Image Stabilisation
Less blur, more clarity.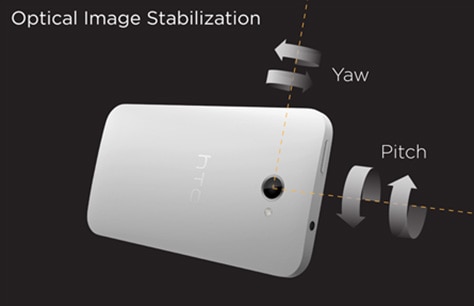 A big complaint about smartphone cameras is blurry photos.
This is caused by:
Length of capture time, which results in misaligned light entering the camera sensor. HTC reduced capture time by increasing our shutter speed to 1/48th of a second, significantly faster than our competitors.
Physical shaking while holding the camera. HTC designers have installed a physical optical image stabiliser (OIS) on our One family smartphones, which feature a gyroscope that adjusts 2000 times a second for unrivalled stability.
HTC's UltraPixel Sensor, high-frequency OIS*, fast shutter speed and large f/2.0 aperture provides blur-free, clear photos and videos of fastmoving objects in both bright and low light settings. *Available only on the original HTC One. Excludes the HTC One mini and HTC One max.
Better pictures, less distortion
Richer images in low light. Reduced motion blur. Uncompressed or minimally compressed photos. We're proud to offer customers advanced technology for the most stunning pictures available on today's smartphones.